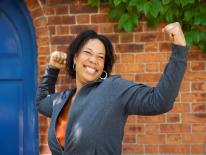 What is a Certified Peer Specialist?
A certified peer specialist is an individual living in recovery with mental illness and/or substance use disorder or a family member who has been trained and certified by the Department of Behavioral Health to assist others in recovery and wellness. A certified peer specialist is a model for personal recovery and performs a wide range of tasks to assist individuals to regain control over their lives and their own recovery process.
What Services do Certified Peer Specialist Provide?
Assist in the development of strengths-based personal goals
Help a peer monitor individual progress and advocate for effective services
Model effective coping techniques and self-help strategies
Act as a mentor or facilitator to help resolve issues
Educate on how to navigate the behavioral health system
Build Community supports
What is the purpose of the Peer Specialist Certification Program?
The six week certification program provides an opportunity for individuals with lived experience to assist others receiving behavioral health services. It ensures that these valuable peer supports services meet acceptable standards. The program also enables providers to credential their peer support staff through the certification training. In addition to the basic peer specialist training class, a certification class is available for family members of self-identified current or former consumers of behavioral health services.
Who is Eligible to Participate?
A self-disclosed current or previous consumer of behavioral health services within the Department of Behavioral Health network with demonstrated personal recovery and an ability to help others with their recovery is eligible to apply for the peer specialist certification program. A participant must be at least 18 years of age with a high school diploma or equivalent and a resident of the District of Columbia. A participant must be willing to create and follow a wellness recovery plan.
What if I already am a Peer Advocate?
A Peer Advocate already demonstrates a high level of commitment to helping peers. The certification program will validate your skills and knowledge, increase your credibility in the behavioral health care industry, and support professional development. Certification also will strengthen your ability to compete for peer specialist employment.
Does DBH provide Employment?
The Peer Specialist Certification Program helps prepare individuals to apply for available peer specialist jobs. DBH encourages its private provider network to include peer specialists in their workforce. However, successful completion of the certification program is not a guarantee of an offer of employment.
Requirements for Certification
Completion of the required classroom work
Completion of an 80 hour, nonpaid field practicum with a District community based behavioral health provider
A score of a minimum of 85% on the certification examination
Graduates also are required to sign the Peer Specialist Code of Ethics [PDF].
Peer Specialist Certification Program Competencies
During the six week course, participants will learn the following competencies:
Practical assessment skills and basic knowledge of mental health and substance use disorders
Supporting skills to assist a consumer to develop skills identified in the approved Individual Recovery Plan
Documentation of services provided including preparation of progress notes
Computer skills
Unique role of the peer, using self as a therapeutic presence
Ethics and professionalism
Recovery and Wellness Recovery Action Planning (WRAP) or similar planning
Advocacy skills, and
Cultural competency and sensitivity
How to Apply
A completed application must be submitted along with a resume, evidence of education which may be a high school diploma, GED or equivalent, and two letters of reference (at least one which is work or volunteer related). Evidence of District residency also must be provided. The application will be reviewed by a Peer Specialist Certification Committee made up of consumers and the Office of Consumer and Family Affairs.
Next Class
The Department of Behavioral Health is accepting applications for the Certified Peer Specialist Program. The deadline to apply is 12 noon, Friday, June 9, 2017. Applications are being accepted for the core peer specialist certification training, family peer specialty training, youth peer specialty training and the peer specialist certification waiver. Individuals may apply for any combination of certification using the Summer 2017 Peer Specialist Certification Application. Applicants also can apply for a waiver.
An application may be sumitted by email to [email protected] or [email protected], or mailed or hand-delivered to the Consumer and Family Affairs Administration, 64 New York Avenue, NE, 3rd Floor, Washington DC 20002 (mailed to the attention of Terri Harrison or hand-delivered to a CFAA staff member). No faxes will be accepted. No application will be considered after 12 noon, June 9, 2017. Incomplete applications will not be considered.
Applicants selected for interviews will be contacted by 5 pm, Friday, June 19, 2017. Applicants who are selected to participant in the Certified Peer Specialist Training wil be notified by Friday, June 30, 2017. Each participant will be eligible to apply for a transportation scholarship contingent upon availability of funds and completing all certification requirements.
Class Schedule
(Approximate dates for the three-week training program)
Peer specialist certification training: July 10, 2017 to July 28, 2017
Family and Youth peer specialist certification training: July 31, to August 2, 2017
Location to be determined
Field Practicum
After successful completion of class work, an 80 hour field practicum must be performed with a DBH community based behavioral health provider. The field practicum will be arranged with the Office of Consumer and Family Affairs. The field practicum must be completed by September 2017.
Certification Examination
After the field practicum is completed, a date to take the certification examination must be arranged with Consumer and Family Affairs Administration.
Peer Specialist Certification Waiver
DBH accepts applications for a Peer Specialist Certification Waiver [PDF]. An applicant may request the waiver of the requirements to complete any or all of the classroom work and the field practicum based upon prior coursework or certification as a peer specialist or equivalent granted by DBH or another jurisdiction, or based upon prior or current work experience.'
Service Contact:
Raphaelle Richardson, Director