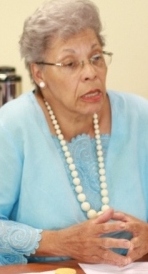 The Department of Behavioral Health Partnership Council (Partnership Council) is an appointed advisory group that helps the Director of the Department of Behavioral Health to:
Identify unmet behavioral health needs
Plan and evaluate services and recommend improvements
Communicate to the public about DBH services, goals and objectives, and
Provide advice on policy development and program administration.
The Department relies on the Partnership Council to help identify any customer service concerns, gaps in consumer services or any health and safety issues related to consumer services.
How was the Partnership Council Created?
The Partnership Council was created by the Department's establishment act, the Mental Health Service Delivery Reform Act of 2001. Its membership is no smaller than 15 and no more than 25. The Partnership Council By-Laws outline its duties, responsibilities and membership requirements.
Who Sits on the Partnership Council?
To ensure that the consumer voice will be heard, 51% of the membership must be consumers or their family members and their advocates. Each ward of the District of Columbia also must be represented. Other members include representatives of adult, children and youth, labor and community private providers. The Consumer Federation League, Consumer Action Network, University Legal Services, NAMI, DC, the Community Partnership Coordinating Council, the DC Primary Care Association, the National Association to End Homeless, the Downtown Business Improvement District, the Criminal Justice Coordinating Council, the Washington Legal Clinic for the Homeless, So Others Might Eat, and labor representatives are now on the Council.
Who Appoints the Members?
Partnership Council members are appointed for a three year term by the Director of the Department according to the requirements of the By-Laws. Members may be reappointed for an additional three year term but can only be reappointed again after one year of non membership.
How Often Does the Partnership Council Meet?
The Partnership Council meets with the Director each month.
Are Meetings Open to the Public?
Yes. You also can read the minutes of monthly meetings.