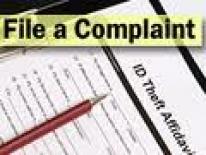 Do you think that you or someone you know has received improper care at a substance abuse treatment program? Then tell us.
APRA helps to improve substance abuse services by investigating client complaints. APRA works with the treatment providers to identify issues that affect treatment and makes recommendations to improve services.
To file a complaint about a substance abuse treatment program certified by APRA, you must complete the Substance Abuse Complaint Form [PDF]. The form must be filled out completely and it must be signed and dated. APRA will investigate your concerns based on the information you provide. So it is important to provide detailed information. You can talk to the APRA Risk Manager for more information about submitting a complaint.
Mary Campbell-Harris, Psy.D,MPH
Risk Manager & American with Disabilities (ADA) Coordinator
Department of Behavioral Health, Office of the Director
64 New York Avenue, NE, Third Floor, Washington, DC 20002
Office (202)673-7690 Cell (202)379-8088 Fax (202-673-3433