Mental health is an integral component to one's overall health. Mental health comprises emotional, psychological, and social well-being. Mental health affects how people think, feel, and act. Mental health can also affect one's abilities to cope with normal stresses of life, relate to others, and make choices.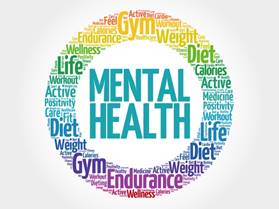 Mental health is important at every stage of life, from childhood and adolescence through adulthood. Early identification, accurate diagnosis and effective treatment often results in quicker recover and better outcomes.
Mental Health Facts
Mental health is more than the absence of mental disorders.
Mental health is an integral part of health
Mental health is determined by a range of socioeconomic, biological and environmental factors.
Mental Health Awareness Month
May is Mental Health Awareness Month. Mental Health Awareness Month is an annual observance designed to raise awareness about mental health and reduce the stigma. Millions of people are impacted annually by mental illness.
During Mental Health Awareness Month, DBH has developed a calendar of virtual meetings, Instagram Live sessions, videos, and resources to support and educate the community on the importance of minding your mental health.
Ongoing

Maximum participants 500

Question, Persuade, Refer (QPR) Suicide Prevention and Education Training.

Navigate to: qprtraining.com/setup
Enter the organization code DBH
Select Create Account
Complete and submit participant registration form
QPR will display and email the newly created Username and Password.
Log in to begin training at qprtraining.com

May 7, 2020

Childrens Mental Health Awareness Day and Month Presentation (Providers Meeting)
Barbara Parks

May 15, 2020

DBH SUD Team DrugFreeDC Instagram Live (12-21 years old)
Bruce Point & Landa Williams
11:30 am-12:30pm
(Visit @DrugFreddDC IG Live)

Walk in our Shoes Instagram Live: (Middle – Hugh School)
Jasmine Tingling Clemmons & Sharryl Jackson
2:00 pm – 3:00 pm
(Visit @DBHRecoversDC IG Live)

May 18, 2020

Meditation Monday: Perette Arrington (Middle School, High School, and Adults)
(Visit @DBHRcoversDC Facebook, Instagram, and Twitter for pre-recorded video) CLINK LINK

Mr. Bill reads Moody Cow Meditates: (Elementary School and Parents)
Bill McNulty
(Visit @DBHRcoversDC Facebook, Instagram, and Twitter for pre-recorded video) CLICK LINK

Making Meditation Jars with Bill McNulty: (Elementary School, and Parents)
(Visit @DBHRcoversDC Facebook, Instagram, and Twitter for pre-recorded video) CLICK LINK

Don't Mute Mental Health Week: Mental Monday Instagram Live
3:00 pm
(Visit @DC.Advocate IG Live)

May 19, 2020

DC SEED Program Parent Group
Myra Walker (Parents/Caregivers)
12:00 pm -1:00 pm
(Zoom will be active 30 minutes before event start time)

Don't Mute Mental Health Week: Take a Breath Instagram Live
3:00 pm
(Visit @DC.Advocate IG Live)

Ellen Harms reads The Invisible String: (Early Childhood and Parents)
The Invisible String is a heartwarming story that reassures children that even though they can't always be with a loved one, they're always in each other's hearts.

May 20, 2020

Creative Coping Skills Instagram Live (Middle School – High School)
Aaron Feinstein and Madelyn Keefe
1:00 pm - 2:00 pm
(Visit @DBHRecoversDC IG Live)

DC Seed Chat and Chew Virtual Meeting For Providers
11:30am-12:30pm
For more information please contact [email protected]

Breathing Exercise Video: (Middle School – High School)
Rachel Clark (Visit @DBHRcoversDC Facebook, Instagram, and Twitter for pre-recorded video coming soon)

Don't Mute Mental Health Week: Wellness Wednesday Instagram Live
3:00 pm
(Visit @DC.Advocate IG Live)

Ana Maria Hakim reads When I am Happy: (Early Childhood and Parents) (English and Spanish)
When I am Happy is a story for young children that helps them identify and understand feelings.

May 21, 2020

Ways to Support Your Child Virtual Presentation (Parents, Guardians, Care Givers)
J'wan Griffin, Jasmin Ruffin, Ebonika Spriggs, Crystal White
10:00 am – 11:00 am
WebEx

Don't Mute Mental Health Week: Teacher Tuesday Instagram Live
3:00 pm
(Visit @DC.Advocate IG Live)

Ellen Harms reads Pete the Cat I Love My White Shoes: (Early Childhood and Parents)
Pete the Cat I Love My White Shoes is a fun story about Pete's new white shoes that turn different colors as he walks through a variety of things in his neighborhood. But it doesn't bother Pete the Cat – it's all good.

May 22, 2020

Mental Health Discussion Instagram Live
Jasmin Tingling Clemmons and Sharry Jackson
2:00 pm
(Visit @DBHRecoversDC IG Live )

Don't Mute Mental Health Week: Family Support Friday Instagram Live
3:00 pm
(Visit @DC.Advocate)

Angelica Clark Brown reads Jazz Baby: (Early Childhood and Parents)
Jazz Baby is a celebration of music, imagination, and big families.

May 25, 2020

Inspirational post to promote stigma reduction; Personal testimonial Instagram Live (Teachers and Parents)
Speakers: Dr. Scott, DBH Project of School-Based Behavioral Health Expansion
12:00 pm
(Visit @DBHRecoversDC IG Live)

Sarah Jones reads In My Heart A Book of Feelings: (Early Childhood and Parents)
In My Heart is a wonderful book to help children understand feelings and emotions.

May 26, 2020

DBH Peer and Peer Operated Centers Twitter Chat (Adults)
12:00 pm
(Visit @DBHRecoversDC Twitter and Facebook)

DC SEED Program Parent Group
Myra Walker (Parents/Caregivers)
12:00 pm -1:00 pm
(Zoom will be active 30 minutes before event start time)

Anais Lugo reads The Animals Whisper to Me: (Early Childhood and Parents)
The Animals Whisper to Me Join is a delightful journey with many animal friends. Listen to their whispers to learn affirmations and tools to start your day

May 27, 2020

Mindfulness Activity Instagram Live (Middle School - High School)
Speaker: Aaron Feinstein and Madelyn Keefe
9:30 am
(Visit @DBHRecoversDC IG Live)

DC Seed Chat and Chew Virtual Meeting CYSD Providers
12:00 pm - 1:00 pm
For more information please contact [email protected]

DC Seed Chat and Chew Virtual Meeting CYSD Providers
3:00 pm - 4:00 pm
For more information please contact [email protected]

Sarah Jones reads Tucker Turtle: (Pre-School and Parents)
Tucker the Turtle teaches children how to calm down their bodies when feeling frustrated or angry.

May 28, 2020

Ways to Support Your Child Virtual Presentation (Parents, Guardians, Care Givers)
J'wan Griffin, Jasmin Ruffin, Ebonika Spriggs, Crystal White, Shauneka Levett
10:00 am – 11:00 am
Webex

Angelica Clark Brown reads The Way I Feel: (Early Childhood and Parents)
The Way I Feel uses colorful and expressive images which go along with simple verses to help children connect words and emotions.
https://youtu.be/fVFB1pl8x7c

Building Community Resilience Amid the COVID-19 Pandemic – A Three Day Wraparoud Services Event

Symposium with the Experts
12:00 pm – 2:00 pm
Please Register:

May 29, 2020

Building Community Resilience Amid the COVID-19 Pandemic – A Three Day Wraparoud Services Event

Community Outreach Day
12:00 pm – 2:00 pm
Please Register:

May 30, 2020

Building Community Resilience Amid the COVID-19 Pandemic – A Three Day Wraparoud Services Event

"Inspiring Our Community" Live-Stream Town Hall Panel Discussion
12:00 pm – 2:00 pm
Please Register: