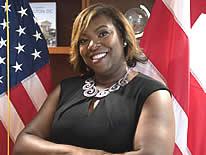 Dr. Tanya A. Royster is the Director for the DC Department of Behavioral Health appointed by Mayor Muriel Bowser. Dr. Royster is a Board certified general, child and adolescent psychiatrist who prior to her appointment served as the Director of Behavioral Health at the Franciscan Physicians Network in Illinois.
Previously, Dr. Royster served as the Chief of Clinical Services System with the Illinois Department of Human Services Division of Mental Health. She is a seasoned clinician, teacher, researcher and innovator. Dr. Royster earned tenure at the University of Illinois at Chicago where she taught in the departments of medicine, nursing, social work and Honors College. She also has served as medical consultant to an Illinois care coordination entity that provides care coordination services for the Illinois Medicaid agency.

Dr. Royster is well published and was selected as a Child and Family Fellow at the Annie E. Casey Foundation. She is a graduate of the Case Western Reserve University School of Medicine and completed her general psychiatry and child and adolescent psychiatry residencies at New York University/Bellevue Hospital Medical Center.